Aluwedo PVDF Aluminum Composite Panel
The PVDF aluminum composite panel consists of two sheets of corrosion resistant aluminum permanently bonded to polyethylene core material. The front aluminum coats PVDF (Fluor resin) paint. Because of its excellent weather proof and other features, this aluminium composite material becomes a very popular cladding material in the world.
Specifications of PVDF Coating Aluminium Composite Panel
| | |
| --- | --- |
| Panel thickness | 3mm, 4mm, 5mm, 6mm |
| Panel width | 1000mm, 1220mm, 1250mm, 1350mm, 1500mm, 1570mm |
| Panel length | 2440mm – 5800mm, or per customer's request |
| Alu skin thickness | 0.25mm, 0.30mm, 0.35mm, 0.40mm, 0.45mm, 0.50mm |
| Standard size | 1220(W) × 2440(L)mm |
| paint | polyester coating |
| core | Normal PE core |
Dimensional Tolerances (Standard)
Due to manufacturing, a displacement of the cover sheets sidewise at the panel edges up to 2 mm is possible.
Thickness: ± 0,2 mm
(mill-finish | stove lacquered | anodized)
Width: – 0 / + 4 mm
Lengths: 2000 – 4000 mm; – 0 / + 6 mm
Lengths: 4001 – 6800 mm; – 0 / + 10 mm
Colours and surfaces
More colours and surfaces are available upon request.
* Anodized according to DIN 17611. All anodized Aluwedo®  composite panels have contact lines (about 25
PVDF Coating
Fluorocarbon aluminum composite panel is made of a mixture of fluorocarbon resin with fluorine enzyme as the basic monomer, paint, alcohol ester solvent and accessory ingredients. The molecular structure in the coating is compact after being high -temperature baked into film formation, which provides the composite panel with extra-strong weather resistance. The fluorocarbon coating falls into conventional fluorocarbon coating. Conventional fluorocarbon is made of KYNAR500 fluorocarbon and is solidified into film formation on the surface after three coats and three bake. The superior quality coating provides the aluminum composite panel with good acid and alkali resistance, and allows the panel to stand the test of severe environment. So, PVDF coated ACP has no abnormal depigment within 15 to 20 years, which is more applicable for exterior decoration of architectures and curtain wall decoration of major constructional projects that have high demand for weather resistance.
Feature
Advantages of PVDF aluminum composite coating include light weight, high strength, extreme rigidity, superior impact resistance, excellent surface flatness and smoothness, heat insulation, sound insulation, fire-resistance, acid-resistance, alkali-resistance, good weatherproofing and non-resonance, various uniform colors, and more. Meanwhile, this construction material can be easily processed, fabricated and quickly installed. It is also elegant and magnificent, and comes with good flexibility, easy maintenance and simple cleaning. It fits various designs.

Application
1) Constructional exterior curtain walls
2) Decorative renovation for storey-added old buildings
3) Advertisement board, shop face decorating, display platforms and signboards
4) Wallboard and ceilings for tunnels; Circular columns for outside use
5) The PVDF aluminum composite panel is also an ideal raw material for industrial purpose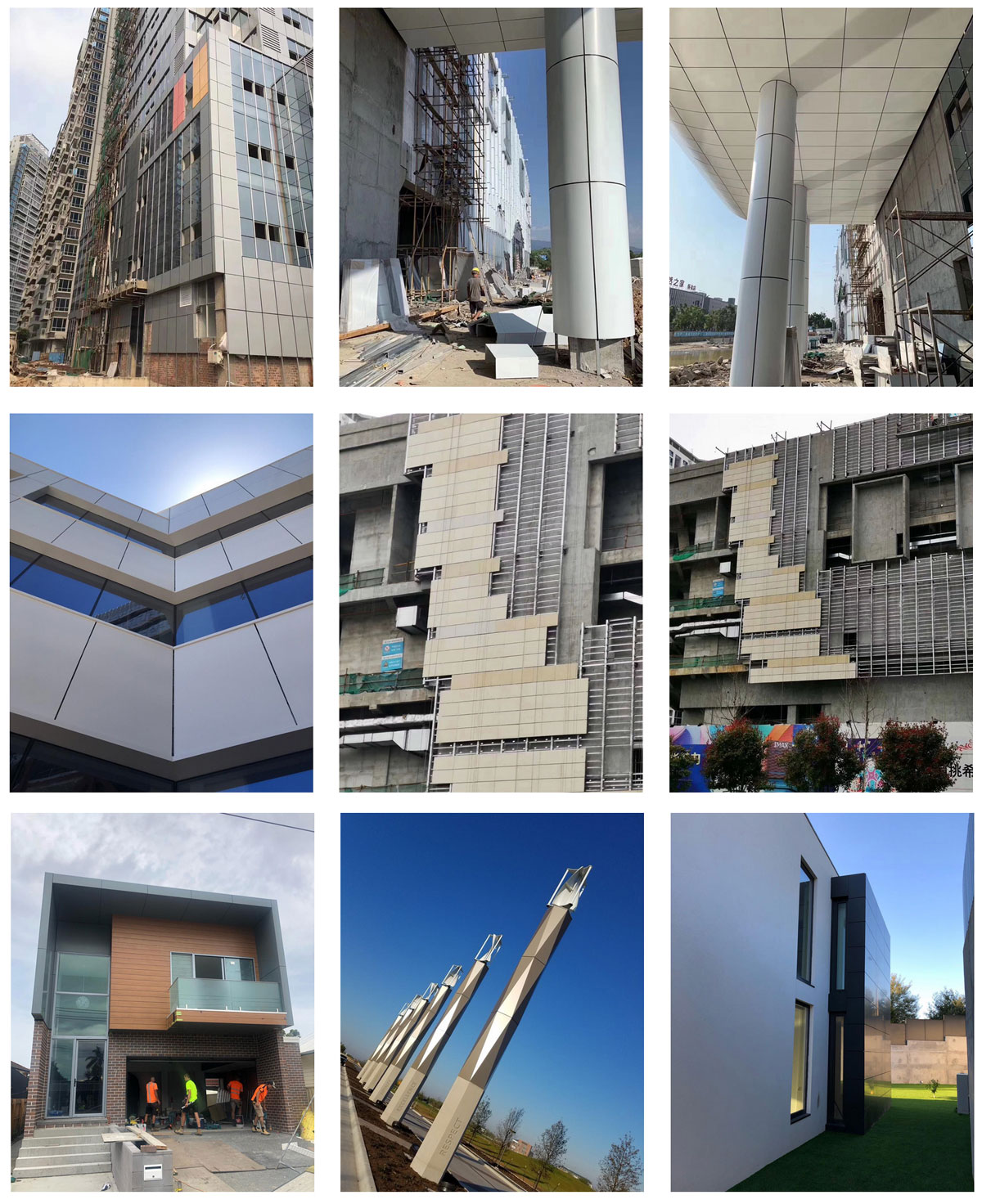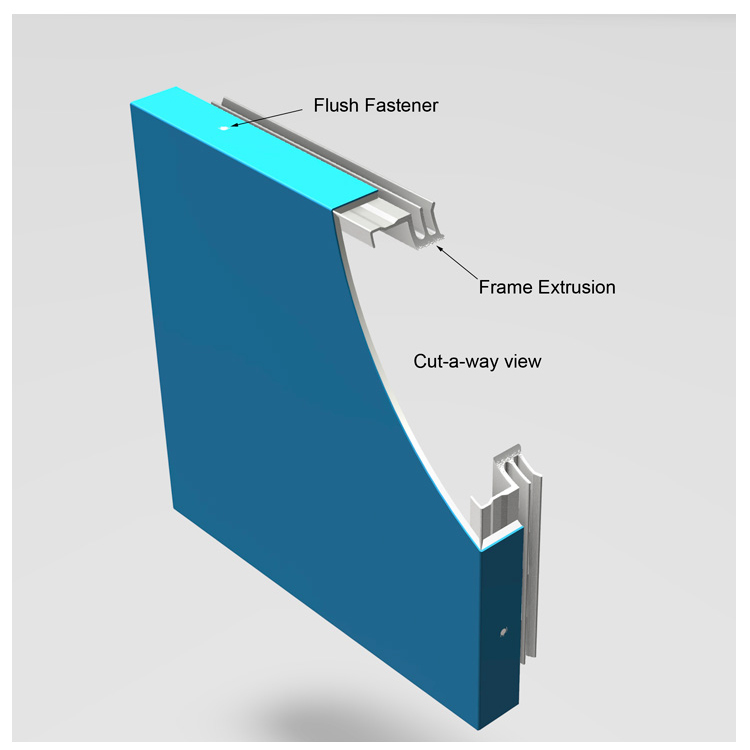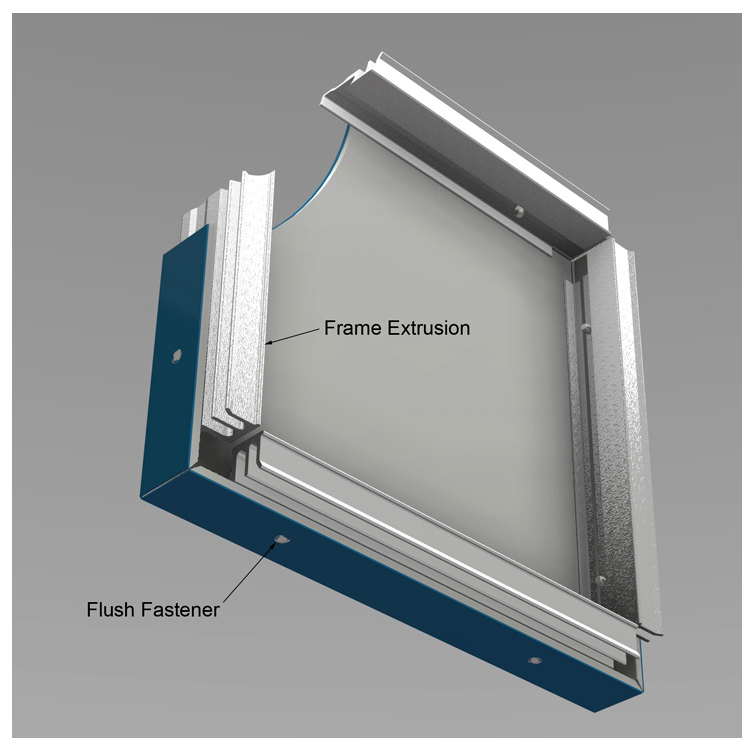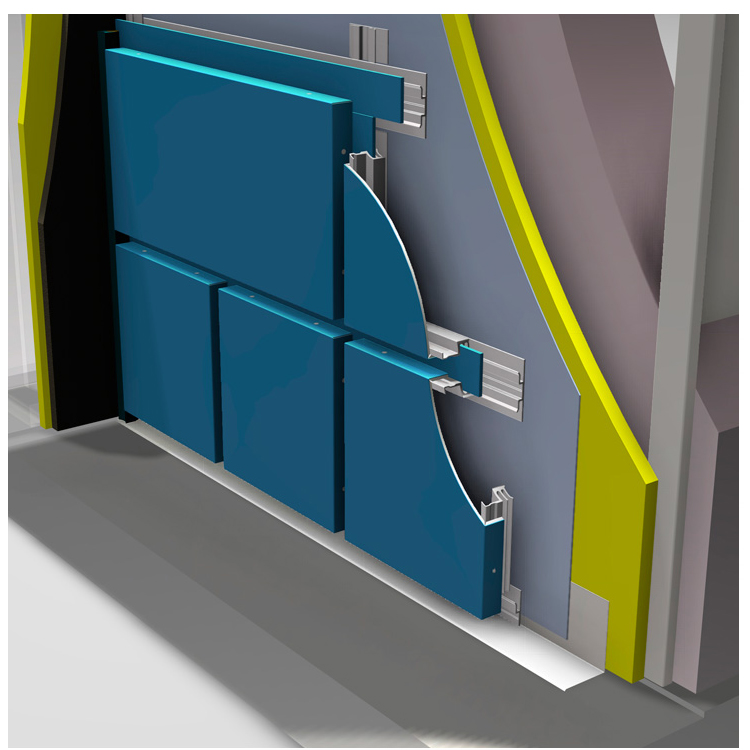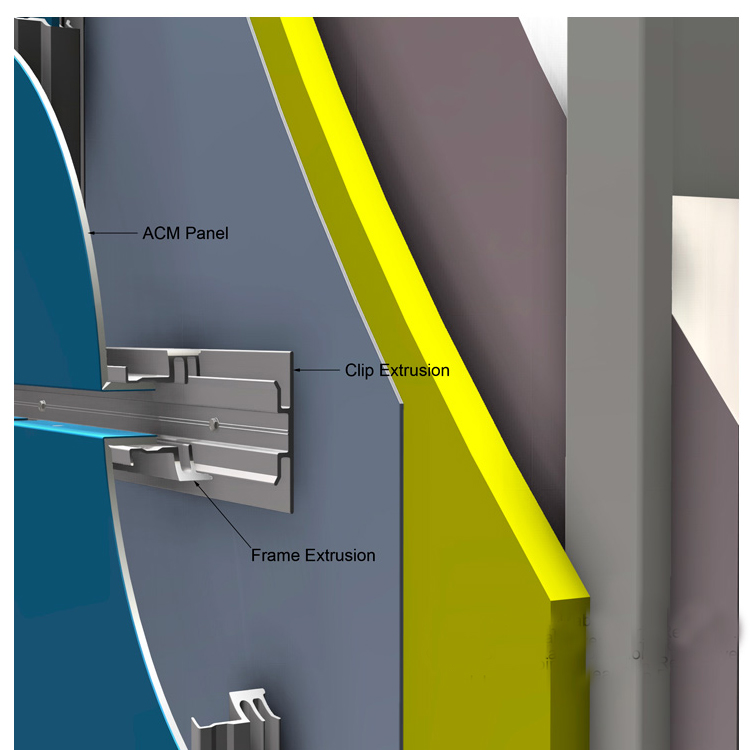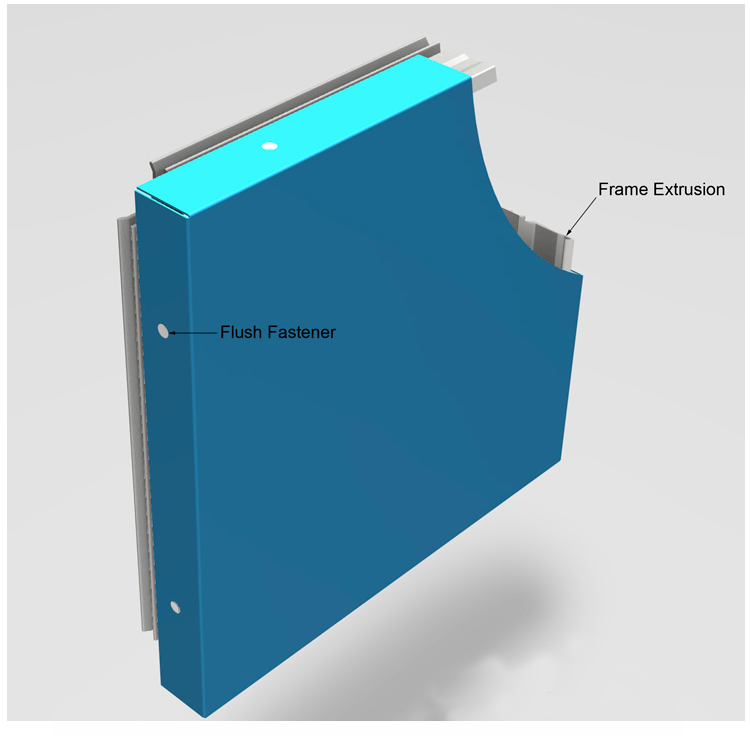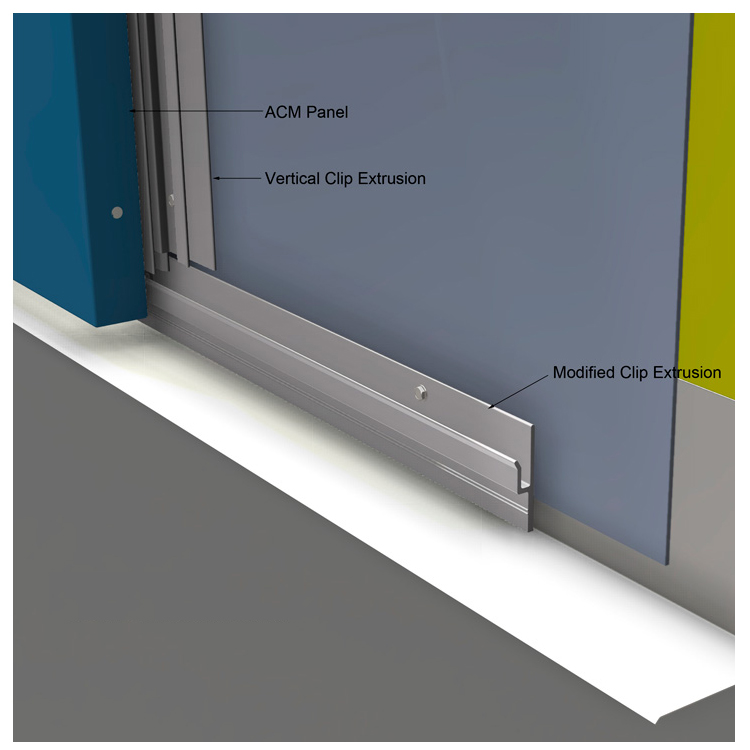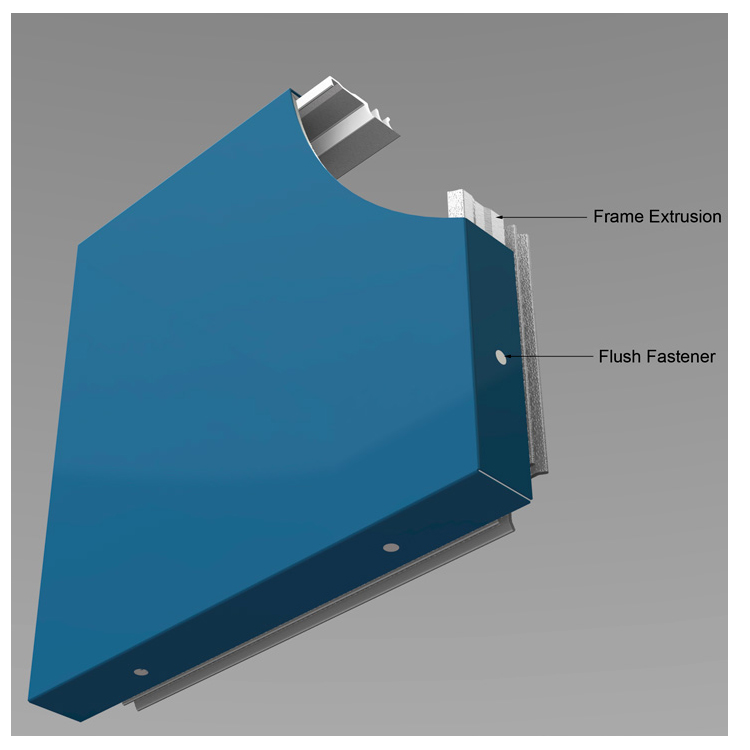 Let's see it in a little more detail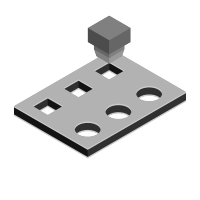 Punching and die-cutting
The composite panel can be punched and die-cut with CNC. The result ranges from the creation of pointillist or artistic style patterns to complicated and detailed drawings on the facade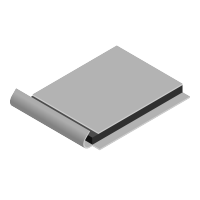 Edging
There are three types of edging:
· Simple, which hides the edging
· Double interior, hides the edge and part of the back
· Double outside, hides the edge and extends a flange that hides the joints with other panel sheets.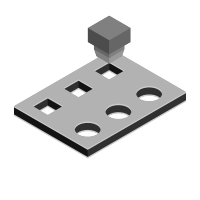 Roller bending
The panel can be easily bent following the minimum necessary bending radii. To do it, it is best to use bending machines with 3/4 rolls.
By bending the product, columns can be covered, concealing the corners with a rounded appearance, etc.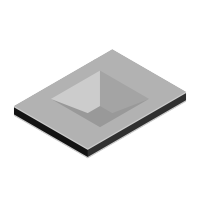 Stamping and engraving
With more limitations than the previous transformations, we find that in the panel, through modifications in its depth, it is possible to make engravings creating forms without having to get to cut-die the panel.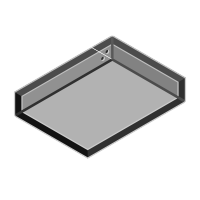 3D Forming
The 3D forming process, besides of being used to manufacturing aluminium composite panel for hanging systems, can also be used to create projected three-dimensional surfaces.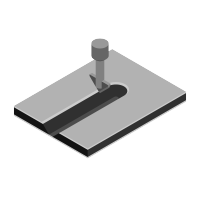 Milling
The milling of the panel gives results that differ from other types of processing such as punching and, of course, from the usual conception of the composite panel as a cassette-type tray. It can be made with CNC, with a wall saw or a portable one. The partial milling of the panel allows the subsequent folding of the pieces to give them creative shapes.